Hey everyone! 🙂
Today I wanted to bring you a special guest poster. Her name is Lyndsey and she is a brand new blogger and fellow crunchy mama! <3 She offered to write guest post on cloth diapering while camping and I just couldn't pass that up!  If you'd like to check out her blog, you can find it here. I hope you find her post as interesting as I did!
---
Hi there, I am Lyndsey!
My family and I avidly love the outdoors, especially during the late spring and summer months. We love to go camping with our little ones and we cloth diapered our second child.
Now you must be thinking camping and cloth diapering is not something that you would assume goes hand in hand. Well at first that was my thought as a new cloth mom, but I decided to give it a try since I did not want to buy disposables. (I never bought any the whole 2 years we cloth diapered for!!! EEK) Our first camping trip was Labor day weekend in 2014 and some pictures included in this post are from 2015 camping trips.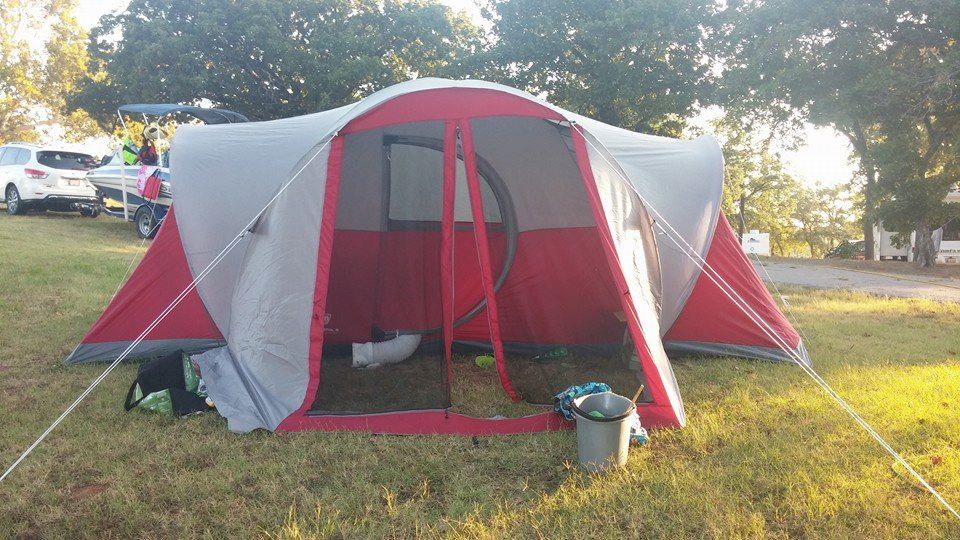 Camping and cloth can work, and I will explain what I did to make it work. Hopefully it will help others take that step and venture out to experience it.
What I did to make this as easy as possible on me was using just diaper covers and prefold/flats.  I pretty much packed a duffle with as many as I could fit just so I knew I would have enough. I brought a mop bucket to wash the diapers and a wooden spoon to use as an agitator. You can use a 5 gallon bucket I just had the mop bucket on hand. =) The detergent I used was All free and clear this will just depend on what you use. At that time that is what I used. Oh you can not forget your wet bag, I used a large one to hold all of the dirty diapers.
The reason I chose to use prefolds and flats with covers is because they dry fast than using an AIO (all in one) or AI2 (All in two). Thankfully the site we were at already had a little clothes line I could hang the diapers on. If your site doesn't have one that is fine, you can make one or just lay them out to dry.  Another plus is when using a cover, you can get about 3 uses out of them before you have to wash them which saves you in the long run.
The process is super simple! When you wash is dependent on you and your preference or need. I would wash when the wet bag was a little under half full, so about 3 covers and I don't know maybe 5 or 6 prefolds/flats,give or take.  I would take my bucket to the water spigot and fill it up. I put about half a cap of detergent into the bucket and added my diapers to it, then I swooshed them around with my wooden spoon for about a minute or two. Then I let it sit for a few minutes and stir it again for a little longer this time. I do that 5 or 6 times then I take the bucket to a bush and poor the water out while holding the diapers in so they don't fall out. Once the water is out of the bucket, then I take the bucket to the spigot again to rinse the diapers. I found it to be easier to rinse them one by one under the spigot and put them in the bucket after it was cleaned out.
They are now clean, wahoo! I take them to the clothes line in the bucket and start flinging them over the clothes line to dry. It is very satisfying to clean and dry diapers (weird I know). Since each diaper is all only one layer they can dry pretty fast. These that I had hanging up were dry in about an hour or a little under and hour. That is great drying time since you want it to be fast and not take time away from your family adventure. That is my cloth camping routine, if that's what we should call it.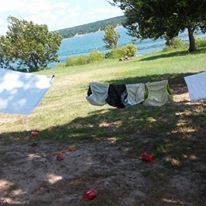 I will say that if you use only AIO or AI2's you can still cloth and camp, so don't get discouraged if you don't want to use prefolds or flats. With those diapers I would suggest that you just keep them in the wet bag and wash when you get home especially if it is not a super long camping trip. Diapers can go a few days before NEEDING to be washed, especially if you have plenty to use in between washed.
The flats that I used are super cheap and wont break the bank either. They are just flour sack towels that you can pick up from good ole Wally world or pretty much any store with kitchen stuff I believe. They are 5 in a pack for about 5 or 6 bucks they are super inexpensive and great for cloth diapering! I also made them fun by tie dying them.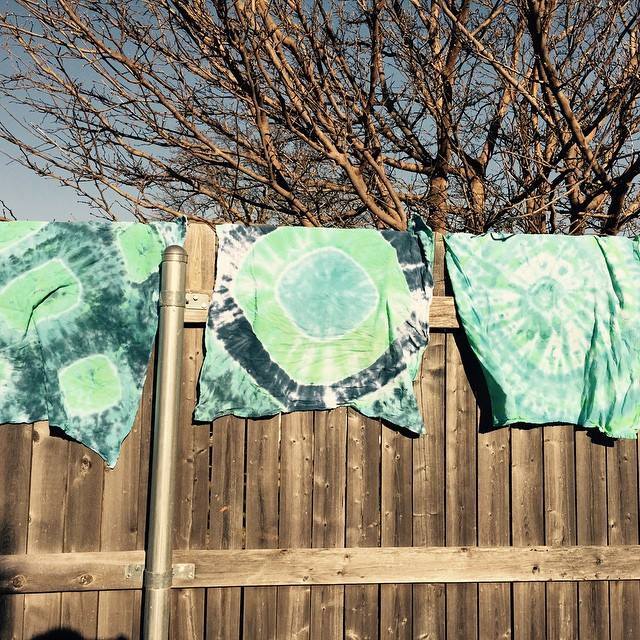 It doesn't take time away from your fun either, I washed in the morning and they were dry by mid day. I hope that this post helps other moms venture to camping with cloth diapered babies!
---
Would you ever cloth diaper while camping?