Hi there!
Today Bubba has been a bit rambunctious. He has gotten into anything and everything he could get his hands on! He has been going non-stop since he woke up just before 8am this morning.
We ate some breakfast together this morning and he had butternut squash baby food and a few bites of my sweet potato as well. He managed to get it all over himself, the floor, in his diaper and on me. Yay butternut squash! :p Good news is he is finally getting interested in solids.
After I got him cleaned up, I unleashed him on the living room to play. He rode around on his little toy car for a while and honked the horn as he crashed into the front door. He was mad that I wouldn't let him outside with it because it is raining and dreary out. Not content with this, he half-waddled, half-crawled over to the window to look outside. He is just shy of 13 months and at the cruising stage now. He will walk, but only with one hand touching the furniture.
And so, he cruised  toward our indoor garden that sits at the window to get sun throughout the day. We only have a few plants sitting on the windowsill, but Bubba thinks they are all pretty interesting. Today he pulled out both of the avocado pits out of their dishes, took the bowls they were sitting in and dumped them on top of his head. He was a bit shocked each time, but I let him do it to see if he would learn his lesson. He cried and shook the second time as the water dripped off his head and came crawling to me for me to hold him.
After a little cuddling, I made him help me clean up the water. I just gave him a little rag to help me mop it up and he used the windowsill to hold as he squatted and dabbed at the spots with me.
He touched the lettuce in a similar bowl with water and I told him, "No, be gentle." He smiled and used one finger to lightly poke one of the leaves. I pulled it out for him and let him feel along the leaf and showed him the pattern of it. He thought that was pretty cool. 🙂
We also have an orange flower plant living in a pot and a glass of water (Bubba ripped off a stem and I have been trying to extend its life a little). This plant is his favorite, I think it is because he really likes the color orange. He continually tries to take the stem out of the glass I have it in to play with it. I always tell him no and put it back, but today I noticed something.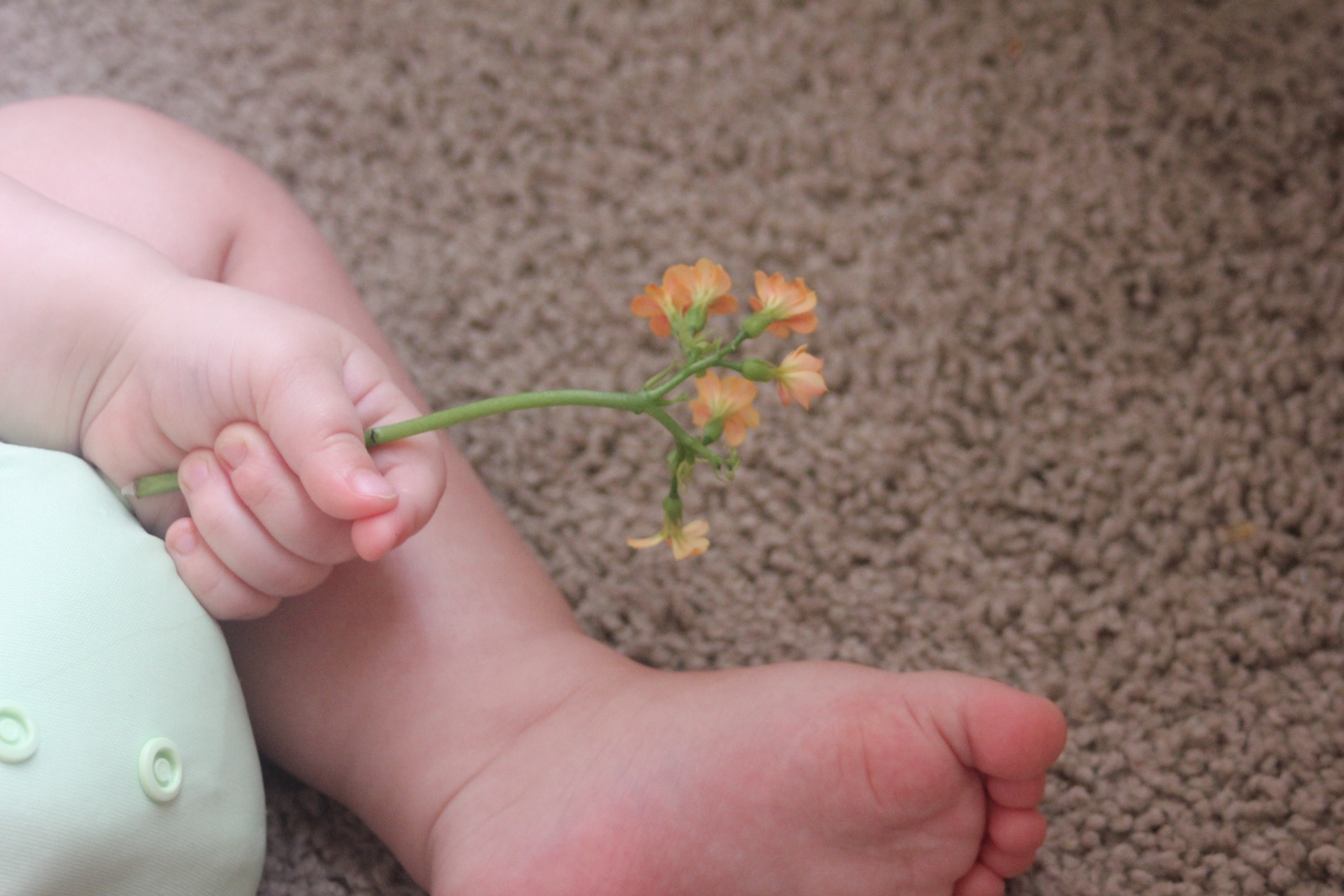 I took the stem in his hand to put it back in the cup and he started blowing on the top where the flowers were. I realized he thought that the flowers were similar to some weeds New Crunchy Dad blows on because they will fly away. You are supposed to blow on them and make a wish and he thought that it would work with flowers too. 😉 He held it up for me to blow and I played along.
He even dipped them in the lettuce water and blew on them so that the droplets would fly everywhere!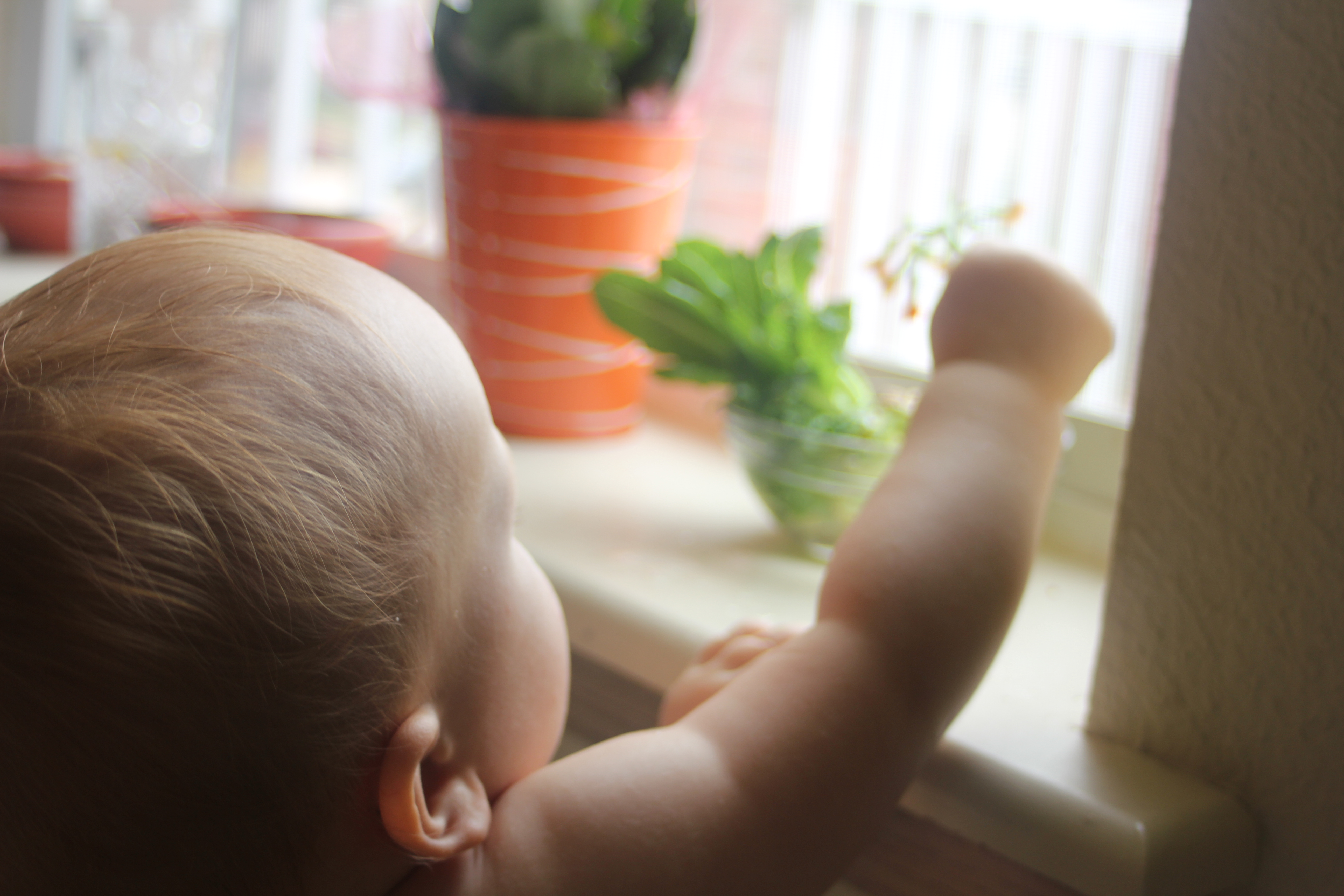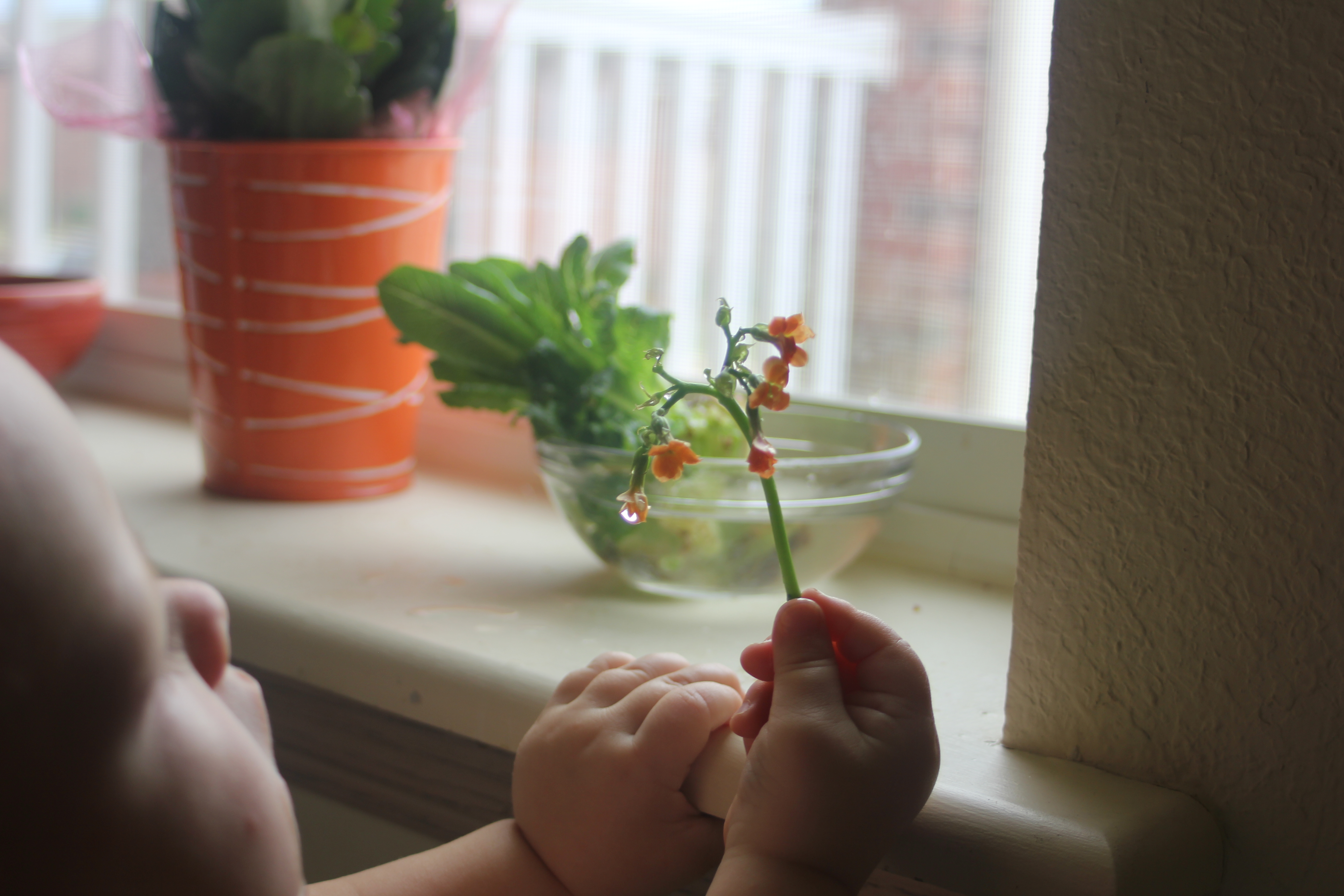 It was pretty darn cute! 🙂 We had a lot of fun taking turns blowing on the flowers. It is crazy what babies pick up on and how they apply it.
What adorable thing has your kiddo done today? 🙂
–
New Crunchy Mom