Hi there! 🙂 If your baby is anything like Bubba, you may have dealt with the dreaded twiddling and have found yourself here trying to find a way to make it stop.
If you aren't familiar with twiddling, allow me to explain. Twiddling is a term for when your baby is nursing and has a restless hand that wanders (or forcefully grabs) your other nipple, exposed or not, and starts twisting, pinching, scratching or otherwise injuring it.  While I consider this normal baby behavior (though not all babies twiddle), it isn't pleasant and it is a good idea to begin teaching your baby to do something else to mindlessly entertain themselves while nursing. At least, if you don't want to have damaged and bleeding nipples.
When I started breastfeeding, I was told how painful it would be, but  no one warned me about twiddling! It is equivalent to the levels of pain some women experience while breastfeeding a newborn, especially when you are on your period! It is very painful and there have been many times that I have seen red and declared that I was weaning Bubba because I just couldn't take it anymore!
Wearing t-shirts is a valid option for some mothers, but Bubba is determined and persistent, he manages to wiggle his arm and contort it to get to a nipple anyways. After a long time of dealing with Bubba's twiddling, we've found five "battle-tested" things to help keep him occupied that don't include awkward grabs for the inside of my shirt and pain. None of these have completely gotten rid of Bubba's twiddling habit, but they have significantly improved it.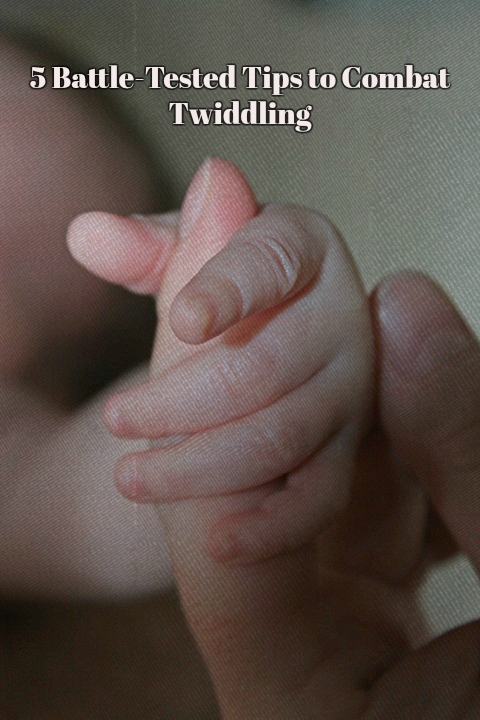 Here are our five things that have made breastfeeding a twiddling baby manageable!
#1 – Twiddle Necklace
Our twiddle necklace has been a lifesaver! I ordered in when Bubba was three to four months old and while it took awhile to get here, it was well worth the wait and money. I chose a light blue necklace that fit Bubba and I perfectly and it is beautiful and practical. I purchased the necklace from Mama Two Fish and although ours wasn't a custom, you can customize your own necklace through her shop.
Our necklace is shaped like a simple fish symbol and is perfect for Bubba's baby hand to grab onto. The alternating colors and size of beads captures his attention every time. As long as I remember to wear it, it works 100% of the time. He never tries to twiddle when I have it on. The only downside to this option is that, our twiddle necklace is not for teething so when your baby begins teething you'll want to make sure they don't gnaw on it.
#2 – Alternative Stimulation
Instead of your baby occupying their idle hands with twiddling, beat them to the chase and play a game with them! Patty-cake, peek-a-boo and other games are great for this. I also like to show Bubba new things he can do with his hands or fingers like wiggling or bending his finger and holding hands. This works pretty well, unless he is tired. When he is tired he wants to do repetitive motions like twiddling to fall asleep and I haven't found any game or interaction that satisfies this need of his, apart from the twiddle necklace.
#3 – Redirection
This is a great option if you can handle your baby repetitively playing with a different spot like your collarbone. Bubba likes to poke my nose (I'm supposed to say "boop" when he does this) or play with a toy for this. I will remove his claws from my flesh and then put his hand on my collarbone or give him a toy and he will generally be content for a minute or two. For short nursing sessions, this works pretty well!
#4 – Boundary shaping
This is, by far, my favorite solution to twiddling because it has long-term benefits beyond peaceful breastfeeding. To truly stop twiddling, pinching and other undesirable baby behavior, you have to set boundaries with your baby on what you will or won't tolerate. It might sound harsh, but I believe it is actually healthy for your relationship with your baby.
For Bubba and I, this looks like me saying "Ouch, don't do that." and removing his hand and holding it for a few seconds before releasing it and giving him a second chance. If he continues and does it a second time, I make my voice a little more stern or sad and say "No, stop hurting mommy." I hold his hand for a little bit longer the second time before giving him a third chance.
If he does it again, I lightly pat his hand to get his attention, look him in the eyes, remove his hand and tell him "No, no more milk for now." and then set him on the floor for a minute. He usually cries a little and asks to be picked back up.
I give him one more chance and if he is still genuinely hurting me (which stops any letdowns for me so nursing is not possible at that point), I tell him "No.", remove his hand and put him in his playpen with no toys for a minute or less since he is one.
After that, and our minute of separation, I go on to #5 so that he can still get some milk without me having to endure the nipple abuse.
#5 – Pumping
If your baby is like mine, sometimes they can take a while to catch on at first, and really, what else can we expect for a tiny human that hasn't learned the ways of the world yet? Bubba generally only has days this bad as far as listening goes when he is very tired, or has had a lot of  excitement. I try to extend grace and empathize with him without allowing him to rule the roost or give him any more chances to damage my milk makers!
When we have days this bad, I break our my electric pump, you can find it here on my retail therapy page. I'm generally pretty tense after going through the process of trying to teach Bubba and simultaneously trying not to lose my temper, but I find some good music and then pump a few ounces to give him in his sippy cup. It isn't the ideal situation, but it can save your sanity and get you through the particularly rough patches when teaching your baby to stop twiddling.
---
I'm happy to say that setting boundaries with Bubba has been working well and we haven't had to depend on the other tips as much since we started this. Make sure that if you do decide to teach your baby that you don't want them to twiddle and they do something right that you praise them! It is important to make sure that they know when they've done something right so they don't feel like they are constantly being criticized. <3
With Bubba I always clap and say "Yay!" when he reaches to twiddle and then stops himself, looks at me and shakes his head. He knows that he isn't supposed to do it, and the praise reinforces to him that he isn't a bad baby and he is learning the right thing. 🙂
Thanks for reading, I hope that this list can help you with your twiddler and improve your breastfeeding relationship! Obviously I am not a medical professional, so all of the advice here is based off of my own experience with my son.
Have advice on twiddling that you want to share? Drop us a comment bellow!
–
New Crunchy Mom