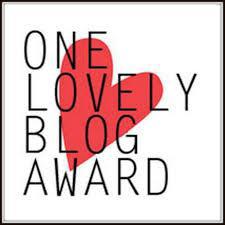 Hi there! 🙂
I am happy to announce that newcrunchymom.com has been nominated by Errant Parent for the One Lovely Blog Award! <3 Thank you to Errant Parent from Bubba and I, we are honored!
I must confess, I learn of a new blogging award (or new to me, anyways!) quite often and I am not always familiar with the rules (and sometimes they are different depending on who you ask). That said, I will be copying and pasting the rules from Errant Parent. 🙂
So what is the purpose of One Lovely Blog Award?
To meet and connect with other lovely bloggers and blogs, of course! I can say with certainty that I have met many friends on WordPress through awards like this and it is always flattering to be a nominee. It so much fun to make new friends who share an interest in blogging.
Here are the rules, as defined by Errant Parent:
-Thank the blogger who nominated you and link back to their nomination post.
-Share 7 facts about yourself.
-Nominate 15 bloggers you know and let them know you are nominating them.
-Add the award badge to your post.
Thank you again to Errant Parent, Bubba sends you his thanks in the form of slobbery baby kisses (you are welcome)! 🙂
I have no body piercing, not even ears, because my body eats metal (I know, weird right?)
I'm addicted to Once Upon a Time the TV show.
I asked for my wedding ring to have sapphire instead of diamond so it would match my husband's eyes (It has both, he spoils me).
My favorite subject is statistics.
When I was pregnant, I craved sauerkraut and strawberry ice cream.
I love chocolate, the darker the better.
I don't wear makeup.
My nominees are:
Congratulations to all the nominees, I look forward to reading your 7 facts! <3
–
New Crunchy Mom
P.S. I've joined Bloglovin!
Follow my blog with Bloglovin