Hi there! 🙂
I didn't want to make a fuss about this before, because I honestly didn't know how it was going to go. I am 100% dedicated to you, my audience, and do not want to endorse something that I feel is not a good product or service.
Let me preface this post by saying I had no idea how controversial babywearing and baby carriers can be. There are a LOT of different types of carriers, different ways to carry, and of course, different brands of carriers. Naturally, they all have their own pros/cons, politics, drama, and safety concerns.
That said, I was recently contacted by a babywearing company called Wrapy, and asked if I would try their product for free and review it. I was not paid, at all. I made it very clear that I intended to write an honest review after using it for a week and the representative that I spoke with said they were comfortable with that.
I did quite a bit of research in preparation for this while I was waiting for the Wrapy to arrive. I inquired of local babywearing groups and asked for opinions and experience with this wrap. No one had heard of it, and many were skeptical because "stretchy" wraps generally have a bad reputation and are ill-suited for heavier babies.
Armed with information, Bubba and I stalked the mailman in anticipation of the wrap arriving (You think I am joking? Well, probably better leave it that way…).
When it arrived, we excitedly opened it and checked the washing instructions so we could wash it before we tried it out.
I can't remember a time when our washer and dryer worked so slow!
At long last, it was dry and ready to use, so I grabbed the handy booklet (full of different ways to use the Wrapy) and started preparing the most familiar type of carry.
Wrapping has a bit of a learning curve to it, but I generally like to use the "Hug" position for older babies because that is easiest for us and generally not a controversial way to babywearing (as opposed to forward facing or back wearing). This carrier should not be used to back wear but the instruction manual does have some forward facing carrying positions if you are comfortable with that. 🙂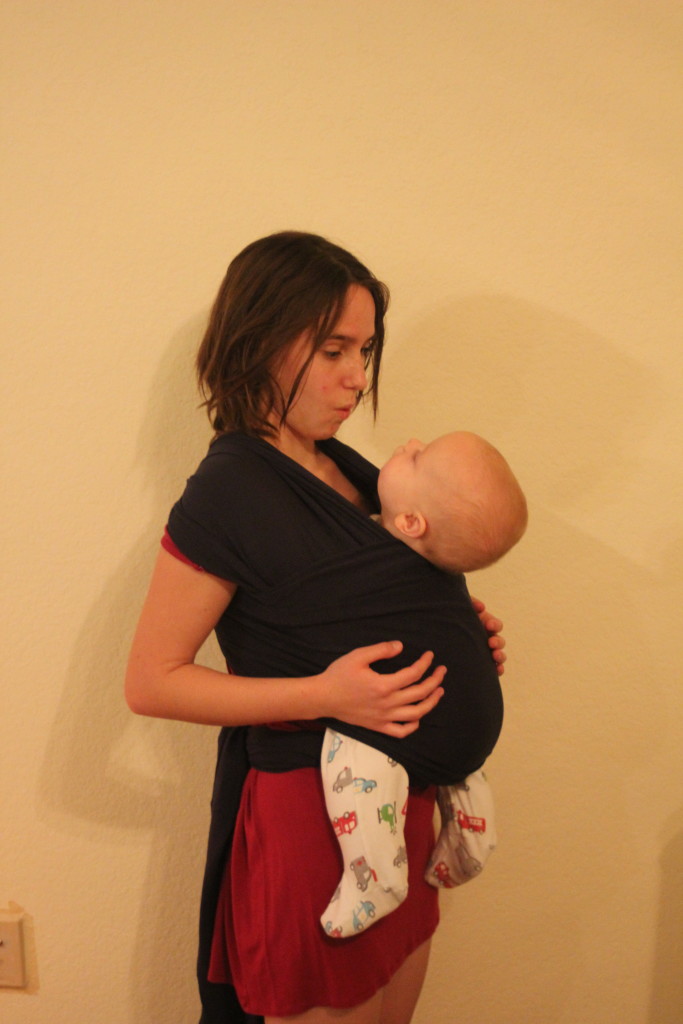 Forgive the PJs and messy hair, please…we just couldn't wait any longer! This was kind of a quick wrap job too, his legs should be in more of an M shape. 🙂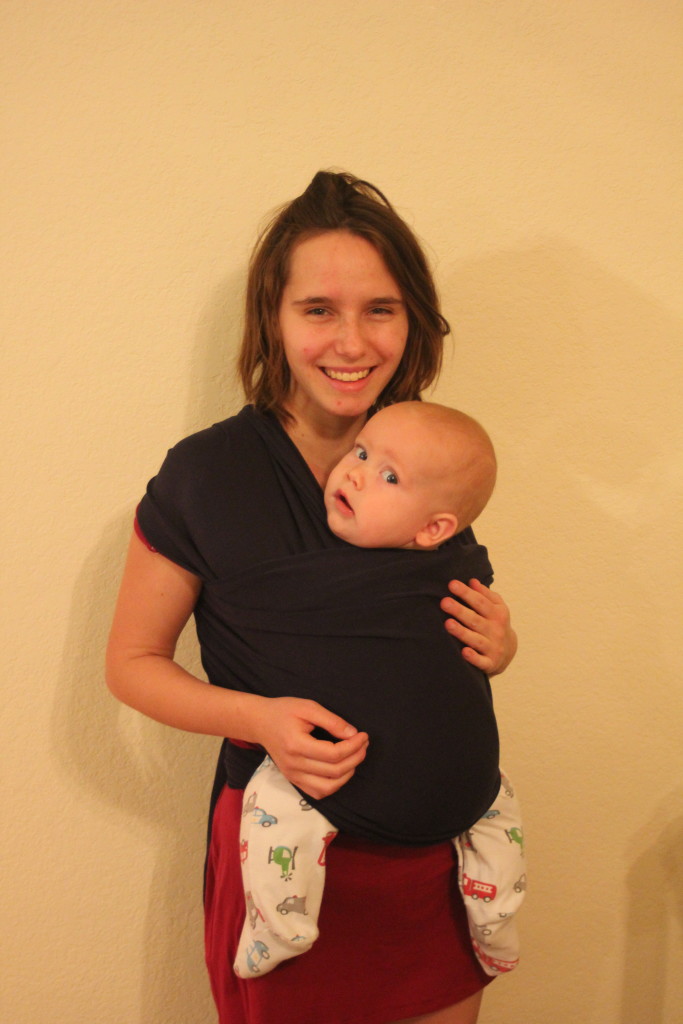 These photos are from a better wrap job with the same carrier.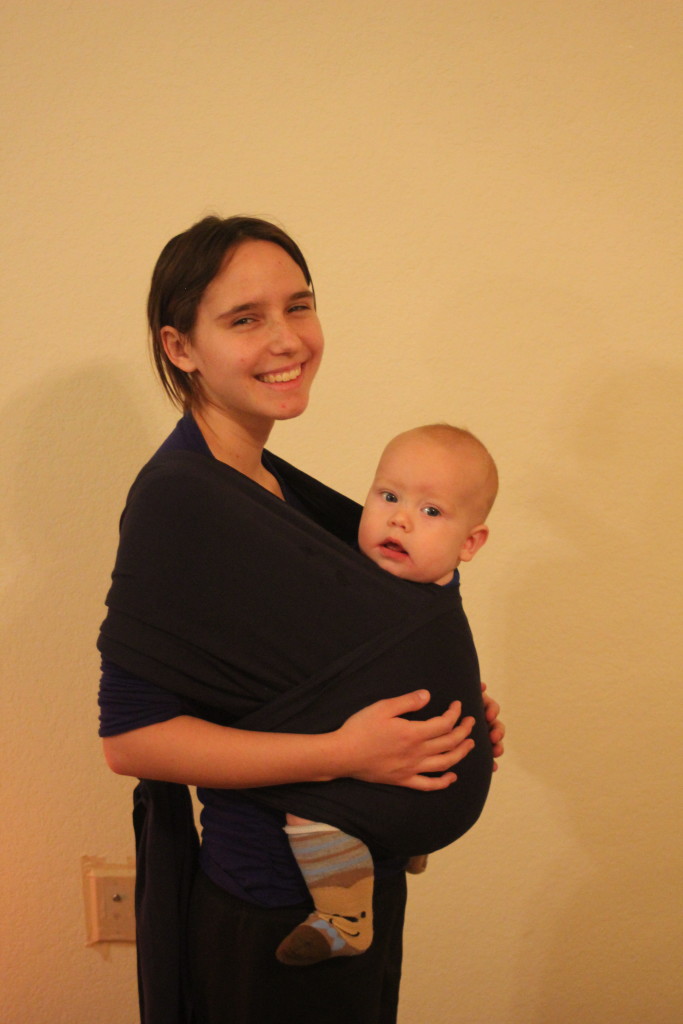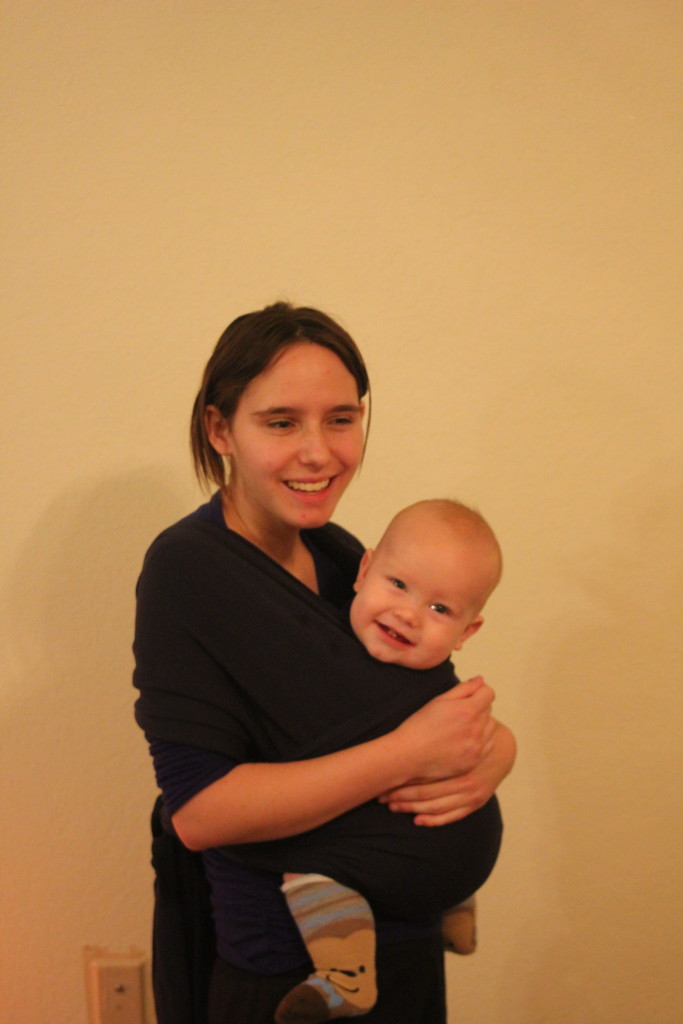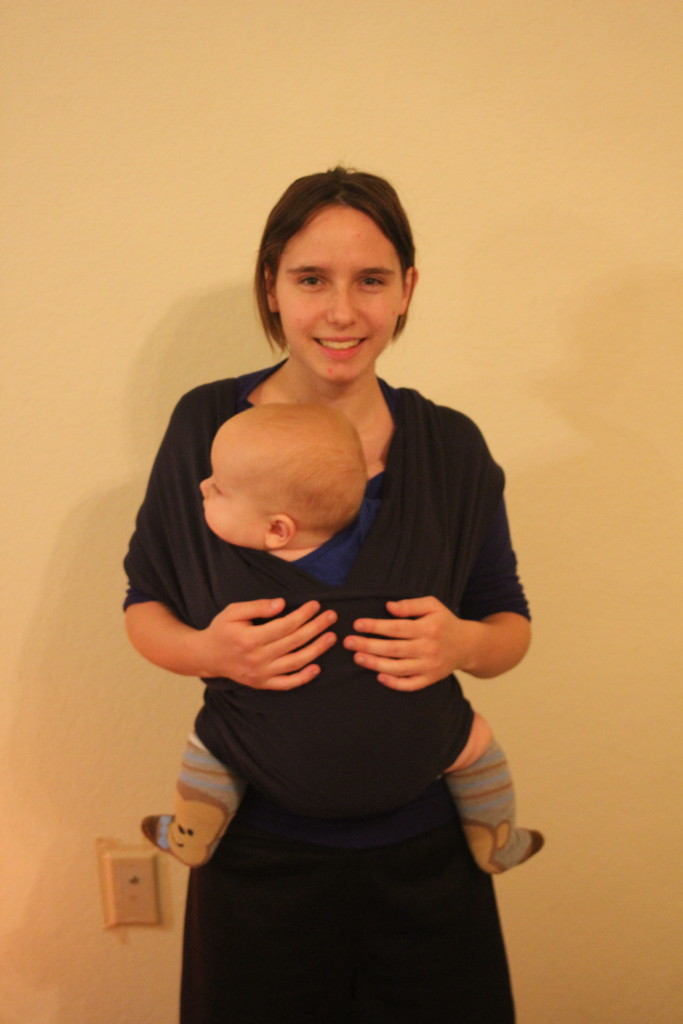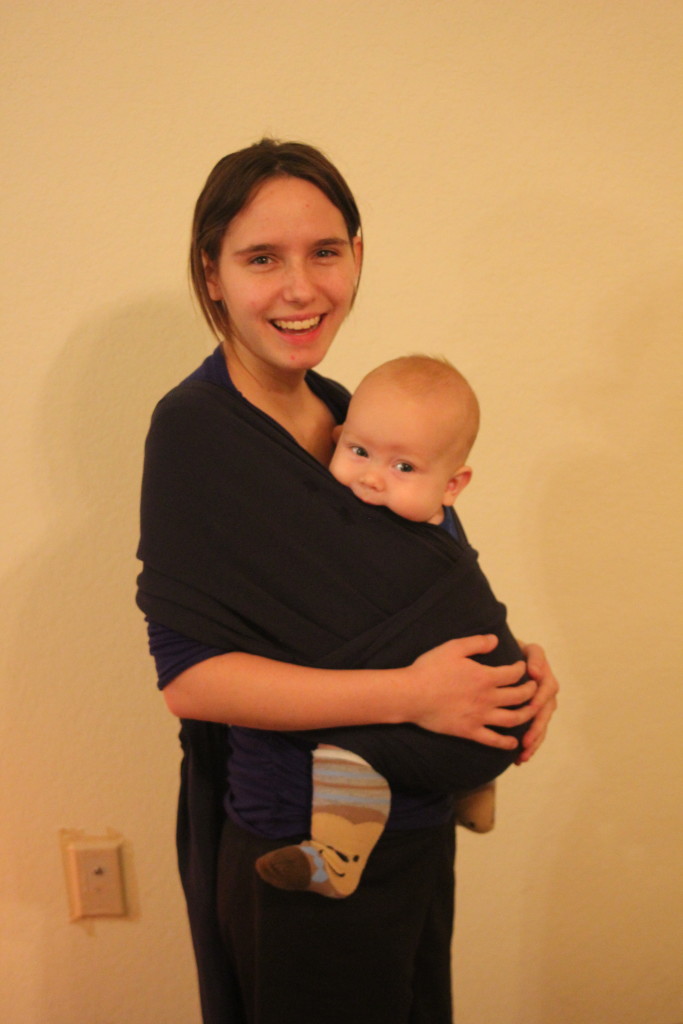 We only tried this carrier for a few moments the first night (I don't like to wear Bubba while he is in PJs due to the inability to check the circulation in his legs).
We wore the Wrapy out and about to the grocery store, the mail box, and around the house for a week or so until we were confident in our opinion of it.
Here is the information for the Wrapy carrier:
Made of 95% cotton and 5% spandex
Can be used from birth to 35 pounds
Can be bought here (be advised: the photo connected to the listing is NOT safe babywearing because the baby is not close enough to kiss and it is not possible to tell whether the airway is open).
Here is our Pros/Cons breakdown…
Pros:
Comfortable and supportive for both of us
Works for my heavy baby, despite the stretchy aspect (22 pounds)
Bubba can't wiggle out
One size
Soft material
Easy to adjust
Bubba loves it (he has been motioning for "ups" a lot more since we got it)
Neutral color
Cons:
Learning curve for wrapping
It is a little long for me and I have to tuck the tails into the knot (I'm 5'2″)
Unsafe promotional photos on the website and amazon
Might not be safe for heavier children, depending on how much they like to wiggle
Verdict:
I'm not a fan of babywearing politics, and I honestly don't have a problem with stretchy carriers (they are my favorite, actually). The biggest con about this product is the photos on amazon and the company's website that promote unsafe babywearing.
The product itself is currently my favorite baby carrier. It is less stretchy than our Sleepy Sack, but stretchier (in a good way) and more supportive of my back than our K'tan. Wraps are harder for newbie babywearers, in my opinion, but if you can find someone to teach you that knows safe babywearing principles (close enough to kiss, legs in an M shape, etc.) then there is nothing stopping you from enjoying this product as much as we have. Babywearing International is a great resource for safe babywearing information!
Ultimately, I really fell in love with this wrap and plan on using it until Bubba gets too big.
A big thank you to Wrapy for letting us try out and review this baby carrier. I was apprehensive about it, but now it is our favorite carrier and we are back to babywearing almost every day now!
Have you ever tried Wrapy? What did you think?
–
New Crunchy Mom