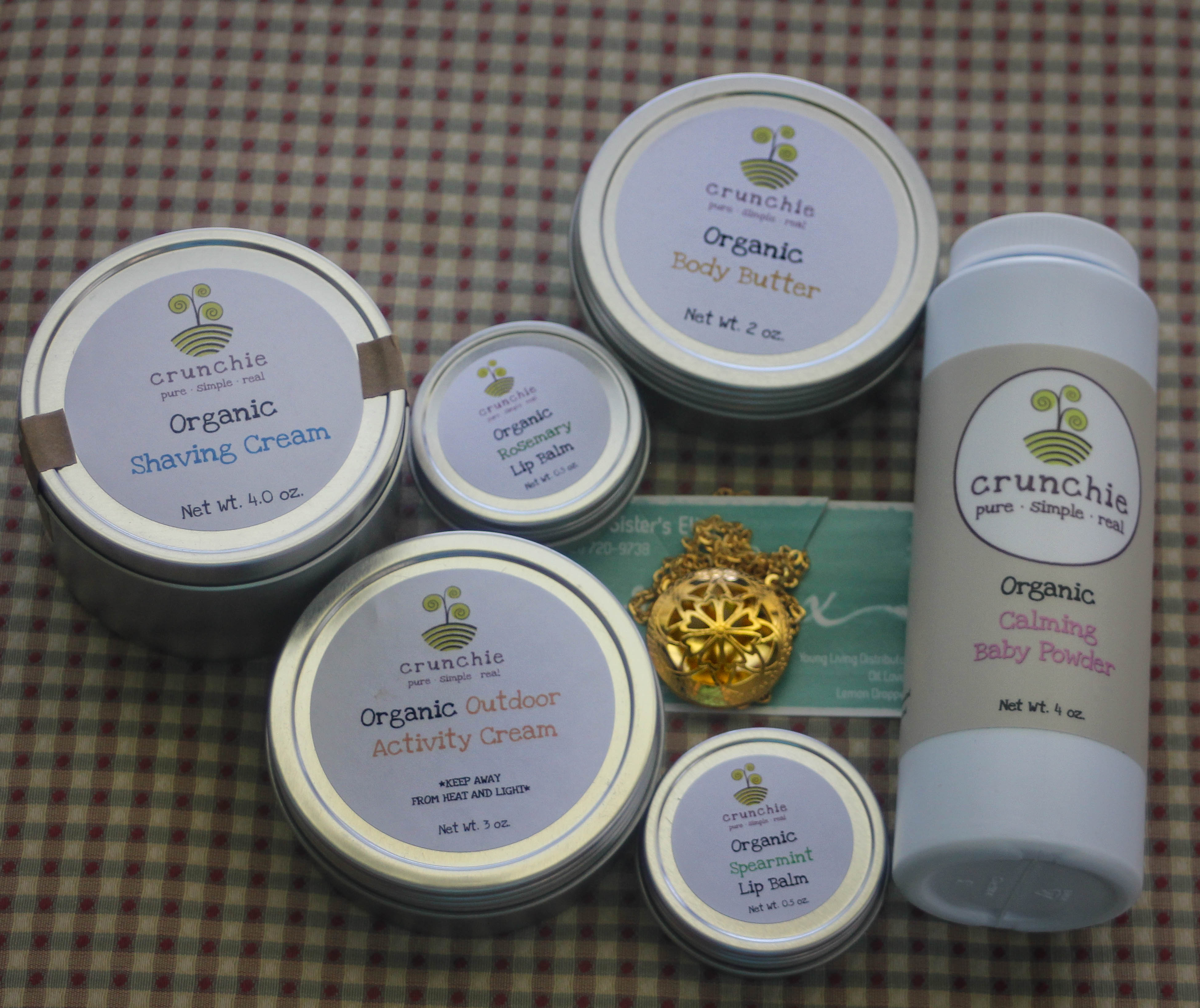 Hi there!
This Giveaway is sponsored by Crunchie Life and SirenSistersElixirs! For full terms and conditions of this giveaway, click the bottom left of the giveaway box.
Several weeks ago, I was contacted by the shop owner of SirenSistersElixirs! She asked if I was open for a giveaway and told me she made essential oil diffuser jeweler. While I had heard of essential oil diffuser jewelry, I didn't know how it worked. So, naturally, I asked her to explain it to me! 🙂 This is what she said…
Essential oil jewelry works in two ways:
1. Jewelry with lava rocks: Lava Rock: 

Lava rocks are porous and can hold the scent of pure essential oil for up to three days. Since the rocks are known for their grounding qualities and ability to calm raw emotions, they are a wonderful tool in creating peace within. They are meant to be worn directly to the skin, with no barrier so it may absorb negative energy.

2. Jewelry with felt pads: the necklaces without lava rocks have a felt pad. When essential oils are dropped on the felt pad, they diffuse into the air. Depending on the oil, the scent will stay for 3 – 4 days. 
Sounds pretty awesome, doesn't it? 🙂 I thought so too. She was kind enough to send me two, one for the lucky winner, and one to keep for myself! I'm not a huge jewelry person, but this is just gorgeous!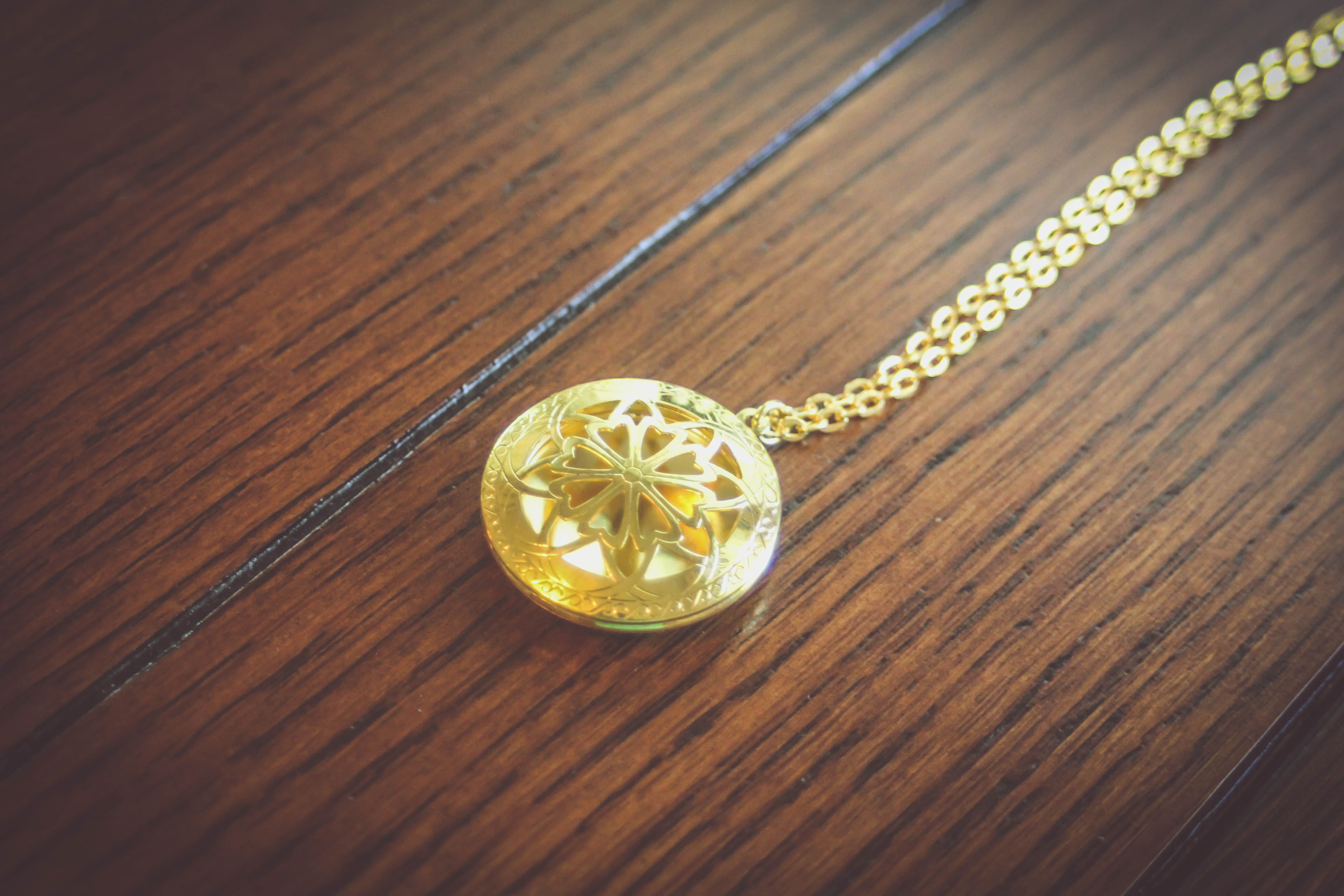 In addition to this lovely necklace, Erin over at SirenSistersElixir has said she'll throw in a bottle of essential oils as well! 🙂 You can see all of Erin's essential oil jewelry at her Etsy shop by clicking here:
Erin's Etsy Shop
. For those of you who are interested in getting in to essential oils, she has sent a coupon for $10 off a starter kit! Use this photo as your coupon: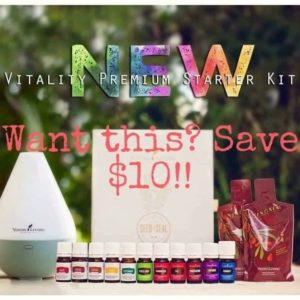 Please note, my websites (New Crunchy Mom and Rebecca Lemke) and myself are not associated with any essential oil brand companies or schools of usage. I urge caution when beginning use of any product, natural or not. I am not a medical professional, and I don't play one on TV. If your bottle of oils says to consult a physician in certain circumstances, please do so!
When I spoke to Erin, I told her I wanted to wait until my Facebook page hit 500 likes before running the giveaway. It was at around 420 when I said that. I posted to let everyone know the agreement and by the next day, it was over 500 likes!
This giveaway is happening because of the amazing support and community here and on the Facebook page. You all are the reason this is happening, so thank you! <3
Because I posted that announcement, I was approached by a second shop! The asked if they could sponsor the giveaway and allowed me to pick out some of their products to try for myself before deciding. I received their spearmint lipgloss, rosemary lipgloss, and outdoor activity cream!
I can honestly say, my favorite is the spearmint lipgloss! When my allergies and sensitivities surfaced, I had to stop chewing my favorite spearmint gum and couldn't find any lipgloss with a safe ingredient list for me. This product has an ingredient list that is natural and is free from all my allergies and all of the toxic ingredients our family avoids. The rosemary is just as amazing, but the spearmint is my favorite because I previously loved it! The outdoor activity cream is also fantastic. It isn't super greasy like other lotions and creams, and it is safe for our whole family!
I told the shop owner that I loved their stuff and accepted their offer to sponsor the giveaway. <3 We worked together to get some of their most well-loved products into this giveaway for you!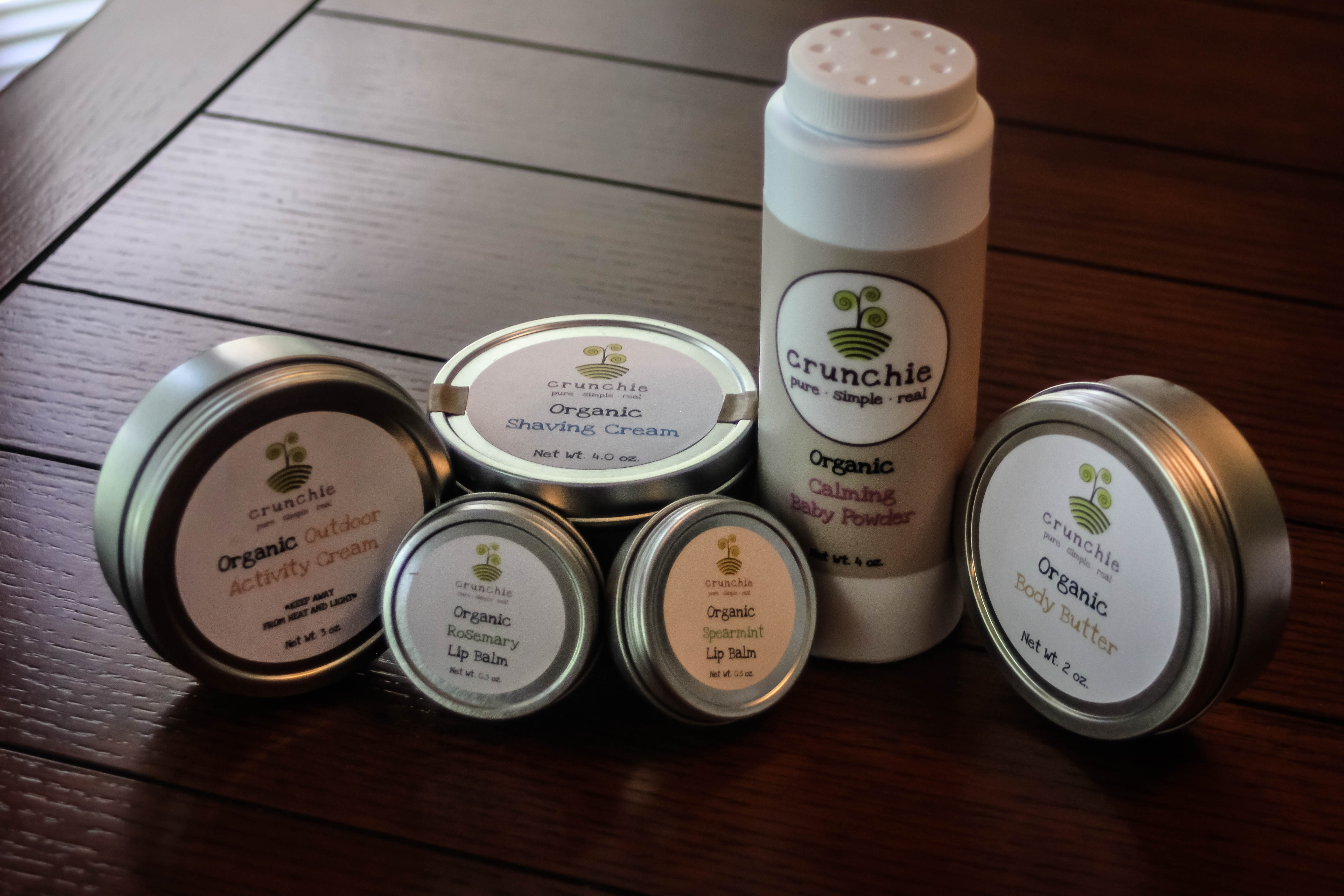 If you win, you will get rosemary lipgloss, spearmint lipgloss, outdoor activity cream, body butter, baby powder and shaving cream – all organic! 🙂 I've heard their baby powder is loved by many a crunchy mom. 😉
For those that don't win, Crunchie Life is providing everyone a coupon code! It does not expire for my community, so feel free to use it whenever you want, as many times as you want. Crunchie Life is dedicated to helping moms like me be able to afford and use natural and safe products. Just use the code RLemke10 on orders of $9.99 or more and you will receive a 10% discount.
I cannot possibly convey how excited I am about this giveaway. 9 months ago when I started this blog, I NEVER imaged that I would be running a giveaway. If you told me that I would have so many people making up a community surrounding this blog, I would have told you that you were crazy. But, here we are. Thank you all (sponsors, community, family and friends) for the support, prayers and kindness you have shown to me. I will be forever grateful.
If you are planning on sticking around to be part of the community after the giveaway, you can join us over at my new site, Rebecca Lemke with the new tagline: "Holistic and regenerating living, both temporal and eternal".
Good luck to each and every one of you in this giveaway! <3 Please note, this giveaway is not just for moms. If you want to win some of the products, but don't have a use for say the baby powder, feel free to enter anyways and give the baby powder to a mommy in need!
Crunchie Life and SirenSistersElixirs Giveaway (Essential Oil and Natural Product Swag)

Get our E-Book on improving the health of your family

Free Ebook!
Sign up for your copy of: 3 Controversial (But Highly Necessary) Habits for the Family!
Thank you for subscribing! Your book will show up in your inbox soon!
Something went wrong.