Hi there!
I know this post has been long-awaited. 🙂 I mentioned that we were making a breastfeeding cover in the post Changing Views on Breastfeeding awhile back and it took a bit longer than we expected to complete. My neighbor and I sewed it together but with two babies, it was hard to find the time!
We made it out of a blue fabric that I had initially bought to make into a sling to carry Bubba, but then he got chunky quickly, too much  for me to be comfortable with carrying him in that stretchy of material. The fabric is Jacquard and it has a little pattern on it that looks like splatter marks. We made it using some DIY instructions found here! It isn't an exact duplicate because I ended up not putting in the little tube that makes the cover flare out a bit, I just hold it out a bit while Bubba nurses so I can see his face. We also doubled the material because as we found out while working on it that one layer by itself can be seen through just slightly. Our cover has some jean type material for the neck piece so it doesn't match completely, but I still love it. 😀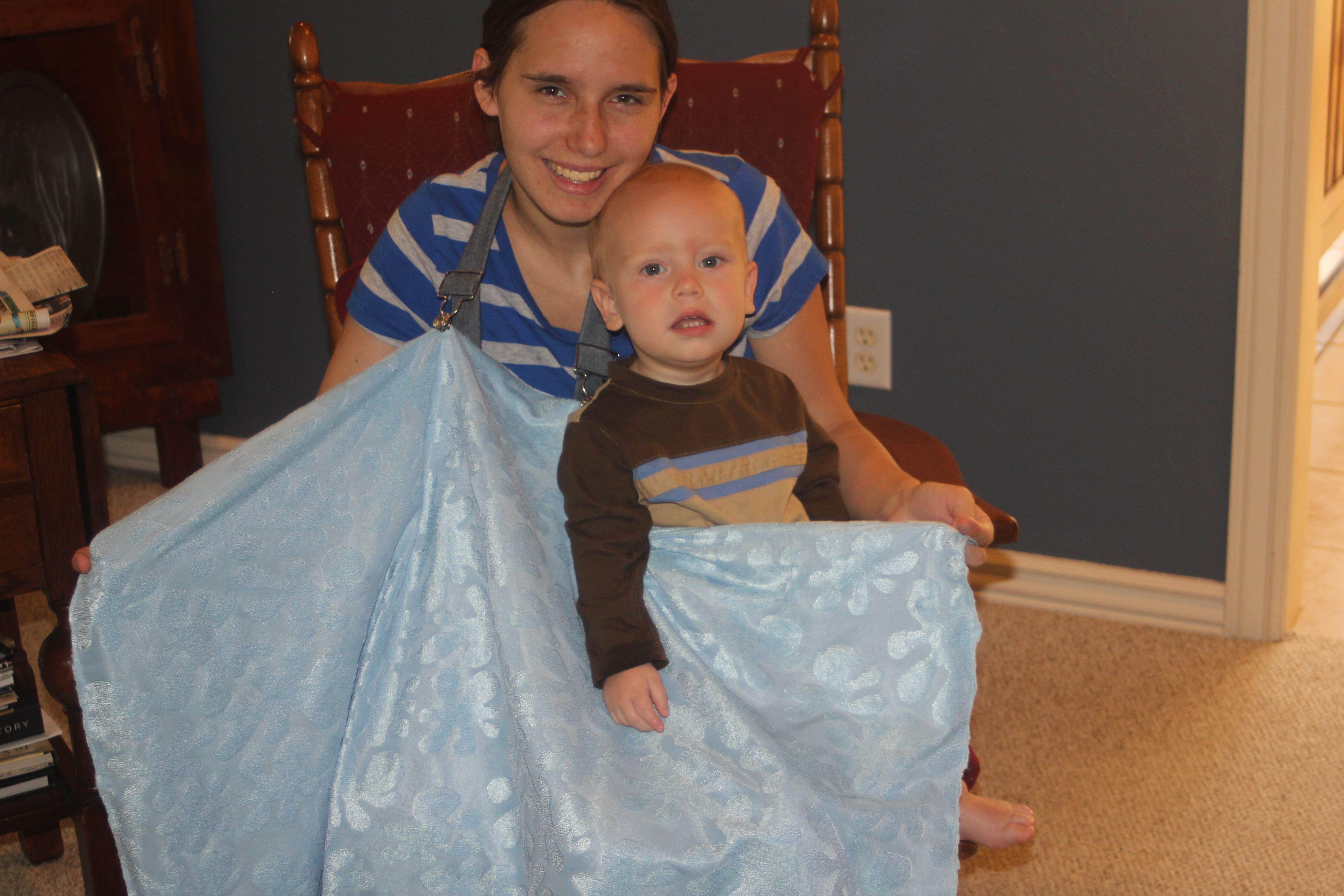 Apart from the fact that making a breastfeeding cover and wrangling two babies (they were interested in the peddle on the sewing machine) while trying to do so is time-consuming, there is another reason it took me awhile to get this post up…It is kind of hard to get a picture of the breastfeeding cover in action when you are the one nursing the baby! 😉 I've begged a few people to take some pictures while we use it so that you all could see what it looks like.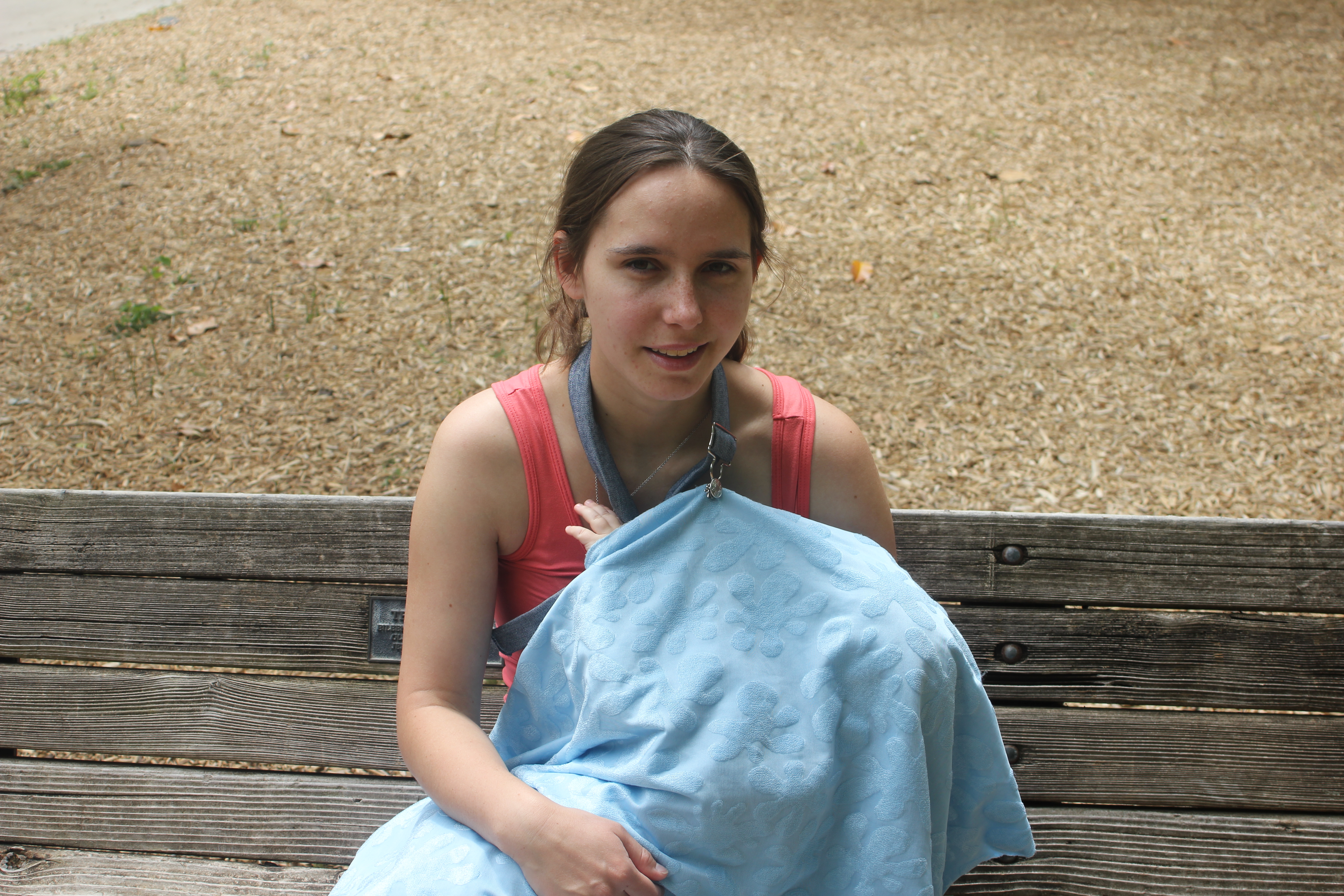 Bubba was 10 or 11 months when we started using our cover, but previously had gotten used to a cover that we borrowed when out and about with our neighbor. There were a few people who mention that Bubba might not take the transition well. He was used to being uncovered, and he saw most of his baby friends nursing uncovered (babies can be influenced by peer pressure). He has two or three baby friends that also nurse with a cover so I think that is why we didn't have many problems making the switch.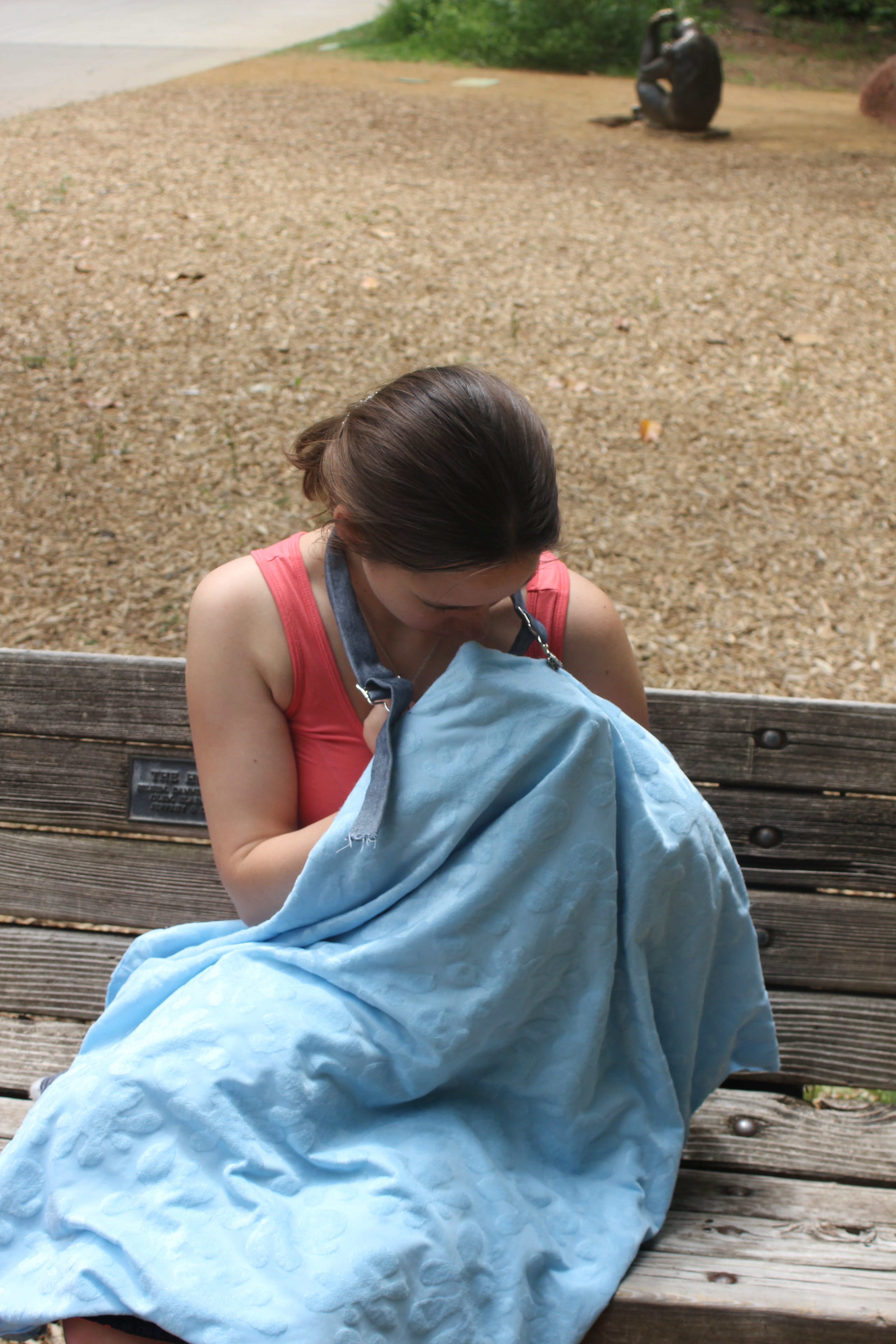 We've actually had an easier time nursing with the cover than we did without. He is calmer, less wiggly (generally) and doesn't hit, bite or kick as much. I am grateful for all of that because I had gotten to the point where I told New Crunchy Dad, "It is time to wean!" I ended up breaking out my pump (you can see which kind I have on our retail therapy page) and giving him a sippy cup equal to one of our nursing sessions so that I could get a break from being injured by him flailing. It was so upsetting and frustrating, but now that we are using the cover he is cuddly and will play patty cake under the cover if I offer. 🙂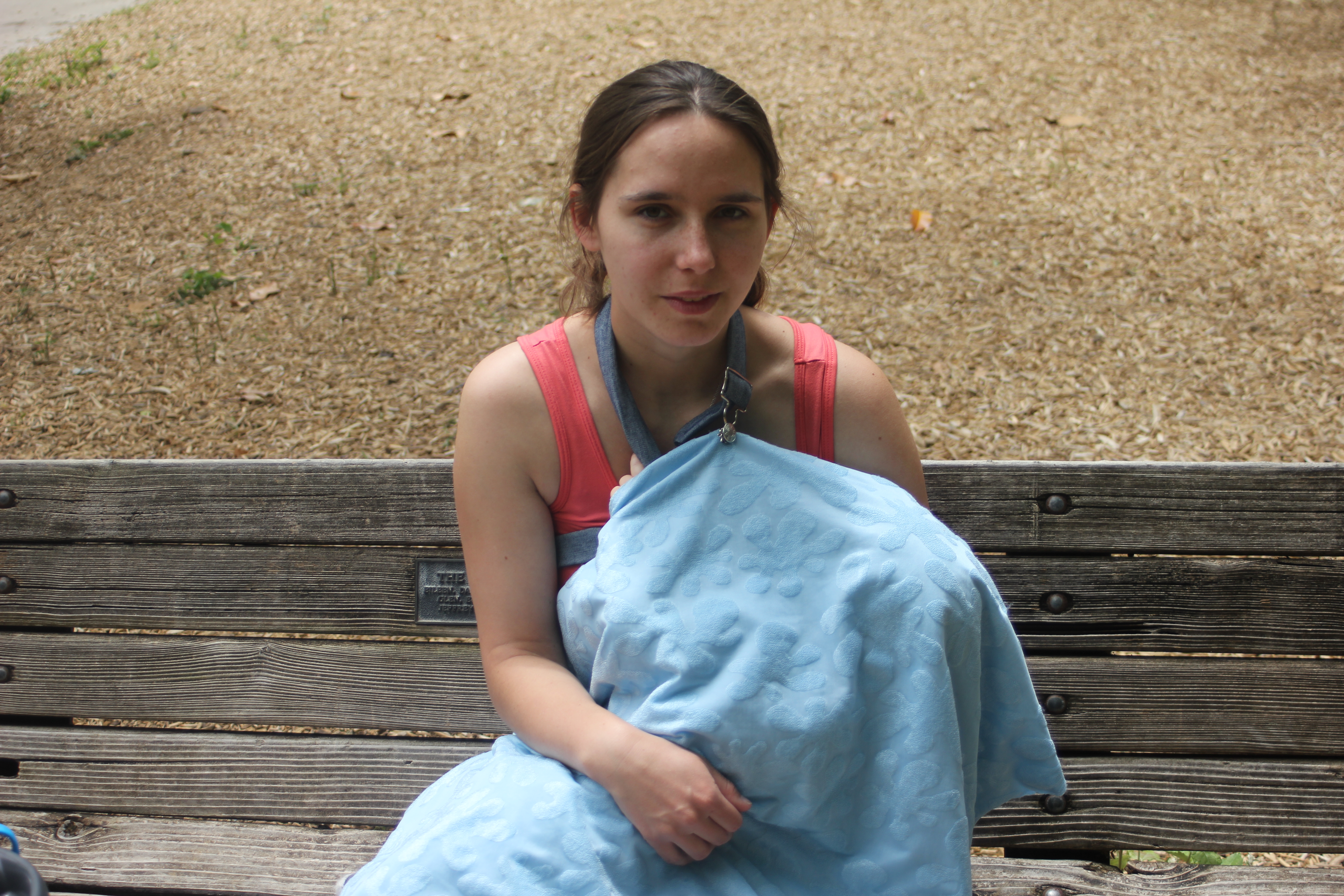 I love that our breastfeeding cover is homemade, for price and because we were able to customize it. We definitely don't regret the decision to start using a cover, in fact, I wish we would have used one from day one. It has been beneficial for our nursing relationship and made nip-slips a thing of the past! I call that a win-win 😉
What do you think of using a breastfeeding cover? Have you ever tried to make one?
---
Follow New Crunchy Mom on Social Media! <3
Youtube – Facebook – Pinterest – Twitter
Get our E-Book on improving the health of your family

Free Ebook!
Sign up for your copy of: 3 Controversial (But Highly Necessary) Habits for the Family!
Thank you for subscribing! Your book will show up in your inbox soon!
Something went wrong.