This is part one of Thomas Lemke's "4 Massively Crucial Diet Tips", you may find part two here and part three here.
Hi, I'm Thomas. I have the honor of being New Crunchy Mom's husband and Bubba's father. I'm also a Registered Dietitian.
Wait! Don't leave! It's not what you think!
I should say I'm a holistic Dietitian. I have the credentials, the education, but not the wrong-headed beliefs that most modern dietitians seem to hold. To wit: I believe saturated fat is good, too many grains will give you diabetes, and adopting veganism is the third-worst nutrition decision you can make (right after downing 300+ grams of fast-acting carbohydrates a day and making vegetable oil account for the majority of your fat intake, respectively).
That said, I've been tasked with adding a bit of nutritional input to New Crunchy Mom's normal offerings. Along these lines, as my introductory piece, the first in a list of 4 ways to improve your family's diet (and, by proxy, your health). The others will be released sequentially as New Crunchy Mom sees fit.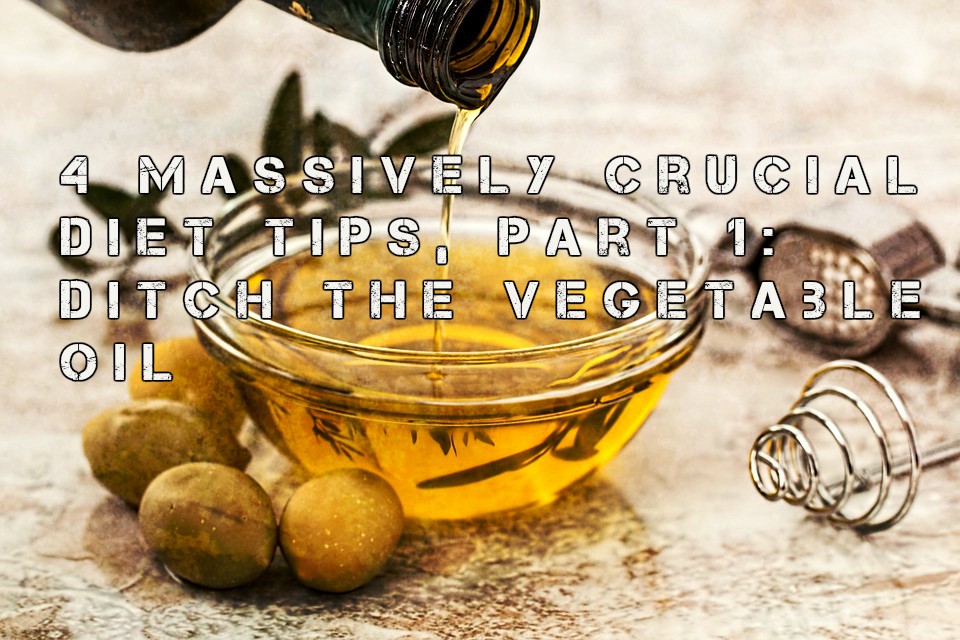 Now, regarding this first tip, I see not following this as roughly 24% of what is wrong with the health of industrialized nations today. It's that big of a deal. Learn my advice on this, and you'll already know more than 90% of your peers on proper nutrition.
So without further ado, my first recommendation is…
Ditch the vegetable oil*.
In the world of nutrition, the biggest contemporary myth is that plant oils are supposed to be healthier for you than other forms of fat (such as would come from pork or dairy, for instance). Far from the truth, however, plant oils (from corn, soybean, safflower, sunflower, canola, cottonseed, etc.) affect your body in extremely adverse ways. The biochemical reasons for this boil down primarily to the Omega-6 fats they contain in high amounts, but what you need to know is that vegetable oils, especially in the amounts consumed by Americans, take the level of inflammation in your body from 0-60 faster than you can say "boo".
For a visual: we've all had an experience with a pimply teenager serving us our burgers and fries, right? A pockmarked, red-faced kid in a fast food restaurant is practically a stereotype anymore. There's a reason.
See, the oil used in those fryers is vegetable oil of different sorts. Historically, McDonalds used beef tallow for its French Fries, but, once the saturated fat scare reached fever pitch in the USA, it was changed to vegetable based oils in an effort to stay "health conscious". Thing is, that omega-6 molecule goes rancid stupid quick, especially when heat is applied – as a fryer does. As a result, as that grease cooks those fries, it continuously puffs out rancid oils into the air in that immediate area. The grease finds a home on the skin of the poor kiddo manning the equipment, and that rancid, highly inflammatory oil goes to work on his pores.
"But wait!" the concerned citizen says. "I thought it was just the fact that it was oil, never mind the type, that caused that particular issue."
False. Many of you put coconut oil or shea butter on your skin as a moisturizer. Does it make you pimply? No, or you'd take it back to the store and ask for a refund. Both are predominantly comprised of saturated fat, a non-inflammatory substance. Comparing it with rancid omega-6 oils is apples and oranges.
On that note, here is my advice: because rancid omega-6 fats work to increase inflammation in the body from within just as they do topically, ditch 'em. 90% of the products with added oils on the grocery store shelves are made with such oils, so initially you'll have to weed through some food labels. As for what to replace these products with, try alternatives that use coconut, palm, avocado, olive, or animal oils as their source of added fat (word to the wise, don't reason from this that all fats are bad and avoid them all – we'll cover in a future installment why that's bad).
I promise this one's worth it, as your family's health will improve almost immediately from no longer being subjected to that crazy level of inflammation from rancid omega-6 fats.
I'll be responsive to questions on this specific topic in the comments section, so feel free to weigh in!
____________
* Note that the words "oil" and "fat" are used interchangeably.
Get our E-Book on improving the health of your family

Free Ebook!
Sign up for your copy of: 3 Controversial (But Highly Necessary) Habits for the Family!
Thank you for subscribing! Your book will show up in your inbox soon!
Something went wrong.