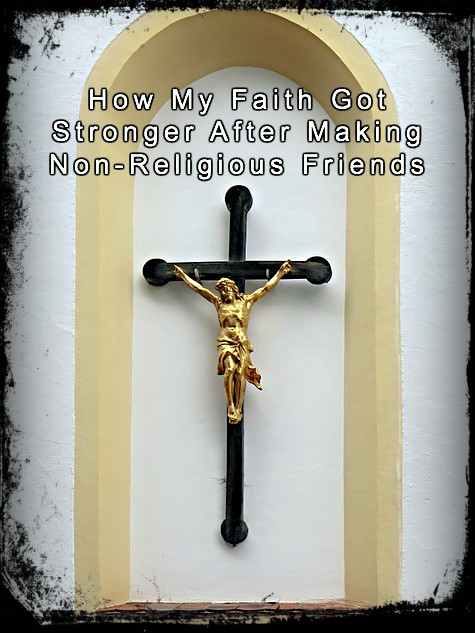 I don't talk about my faith much, especially here on my blog and personal social media pages. In fact, I discuss it so little that you probably didn't even know I am a Christian. Sure, I've talked about my previous experience with fundamentalism and legalism within Christianity on topics like sexual purity, purity rings and modesty, but I haven't talked about my faith as it currently stands.
There are a few reasons for that, but they all come down to the friends I have made over the last few years. Specifically, my non-religious friends. Theses folks range from various forms of agnostic or atheist to strange mixes of pseudo-religious, but only barely.
I started making non-religious friends in college. While I was growing up, I heard about the dangers of college and how it could lead you away from your faith because of the secular curriculum taught and the pressure of peers to conform to the majority. This resulted in me having some trepidation about coming across these people.
Luckily, when I began attending classes at one of the bigger state universities, I was blessed with a Christian friend right off the bat and I didn't feel quite so isolated. Soon after we became friends, things took a turn for the worst. We had an art class together and quite a few of the pieces we studied were about Christianity. When the class as a whole went over these pieces and were asked to talk about them, we were shown the true colors of several of our classmates. While I don't want to get into specifics, we were told exactly what they thought of us, and it wasn't pretty.
We learned that they hated us, they hated what we believed and they hated Jesus. We hadn't said or done anything to them, but their venom towards us remained.
Nothing makes me more horrified than knowing someone thoroughly hates me purely because of my faith in Jesus.
I'd be disingenuous to say that the experiences with non-religious folks ended there, but those classmates, and people like them, are the reason I rarely talk about my faith anymore. It would be easy for me to say that they were all the same and that they were all genuinely hateful people, but that wasn't the case. As the title suggests, I later made  friends with at least one of these classmates and subsequently more people late in my pregnancy with Bubba.
While not all of my experiences with non-religious folks were good, I learned a lot about myself and my own faith through them. After listening to the stories  of those who had been hurt by legalism within Christianity and those who had lost their faith because of it, I gained a new perspective on how to think about and interact with them. I'm grateful to these friends who not only respectfully shared their perspective, but unknowingly build my faith up.
I recognized a tendency in myself to be heavily influenced by what people who hated me because of my faith thought, and instead of completely shutting down that tendency, which would have been easier, I decided to try something else.
I learned to listen to their stories and reasons to be empathic, not to respond, minimize or argue. I prayed for and came to peace with not trying to debate and with the answer "I don't know" for their hard questions, and for mine.  I accepted the fact that they might be angry at me, or Christianity, but that wasn't something that I am called to change (unless it is through the Holy Spirit's work in me).
The way my faith strengthened the most during this time, was, ironically, through taking a page out of the book of those people who hated me and also those who were non-religious due to legalistic forms of Christianity. At the end of the day, they were strong in their lack of faith, not based on having all the answers (because many admitted that they didn't, and I admit the same), but by saying "this is what I believe" and being unmovable in that belief.
If someone who professes to believe in nothing and will defend that position with tooth and nail (and sometimes attack and threaten the safety of those who disagree), I see no reason why I should waver in saying that I believe that Jesus Christ is the way, the truth and the life (John 14:6) and I am unashamed of it. 
I'm done with being silent, I'm done with being attacked and I'm done with wavering because of others.
Get our E-Book on improving the health of your family

Free Ebook!
Sign up for your copy of: 3 Controversial (But Highly Necessary) Habits for the Family!
Thank you for subscribing! Your book will show up in your inbox soon!
Something went wrong.