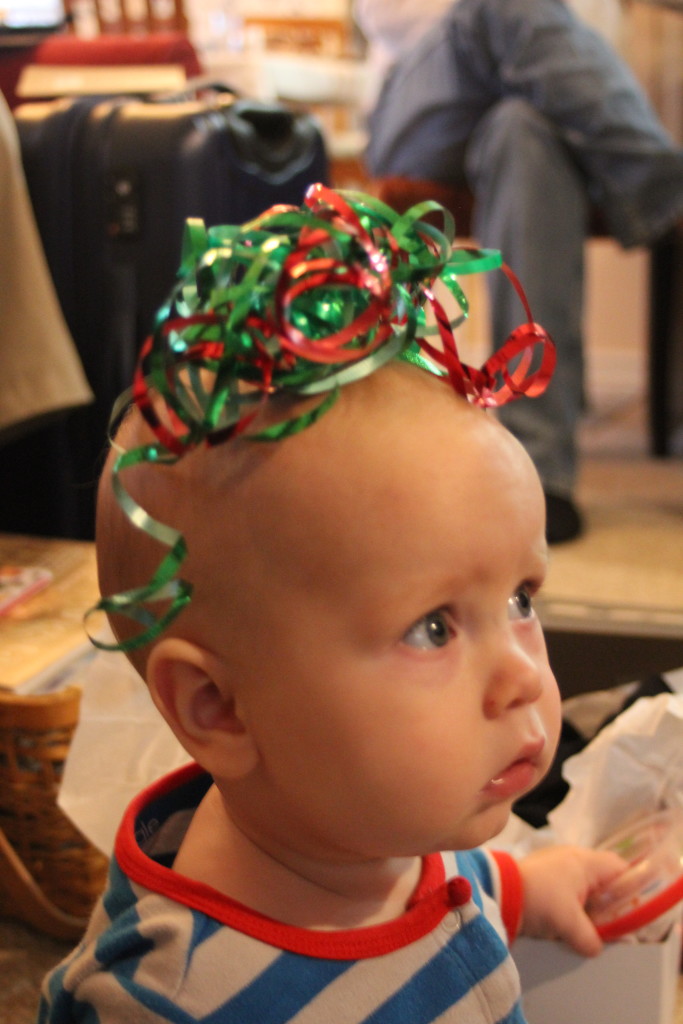 Hi there! 🙂 Bubba and I hope you had a wonderful Christmas and a Happy New Year! We've made a few changes in our lives recently in preparation for the New Year, one specifically being us changing views on breastfeeding.
When I was pregnant with Bubba, I didn't put a lot of research into breastfeeding. It was something I just automatically assumed I would do (little did I know the challenges that breastfeeding can involve). My views on breastfeeding, including what it would entail and how I would accomplish it, have changed a few times since I was pregnant.
Before I delivered, I had planned on using a cover to breastfeeding and I assumed I would have plenty of time to get one before he was born. I had looked at a few online but with so many beautiful patterns and colors to choose from, I hadn't made up my mind yet. Then he surprised us by coming around two weeks earlier than we had planned.
I quickly learned that people either really care about seeing your boobs, or really care about not seeing your boobs. There really wasn't much of an in between. Our lactation consulted was not shy at all, while all of the doctors and some of the nurses were incredibly squeamish of my lactating appendages.
I realized pretty early on that the hospital staff was making breastfeeding a challenge because they were always popping in and out of our room. There wasn't a whole lot of respect given to the fact that the most important thing for me and my son was breastfeeding, and people kept interrupting and disrespecting our time together.
I grew thicker skin in order to make sure my baby was being adequately fed, no matter who saw. I still wasn't completely okay with people watching, but given that I already felt like the entire hospital had seen EVERYTHING anyways, it wasn't much of a stretch to give up and just feed my son however we were both comfortable. People weren't going to go away when I asked or acted obviously uncomfortable, so I felt like I had no choice.
Once we came home from the hospital, I began using receiving blankets as covers. I tucked them under my bra straps and tried to secure them in every way I possibly could, but I learned that Bubba wasn't a fan of the blankets and was adept at pulling them off.
After a while of wrestling with a flailing baby while dealing with an undiagnosed lip and tongue tie, I decided something had to give. I learned to breastfeed in baby carriers, which helped tremendously and was very discreet.
I made many friends who proudly breastfed uncovered. I tried to fit in and breastfeed uncovered too. While it still made me somewhat uncomfortable, I listened over and over to the reassurances that it is normal, legal and natural. Despite all of this, I wasn't really convinced that it was the right choice for me.
I began seeing nurse-ins come across my Facebook for companies that had requested mothers cover while breastfeeding and, while in most states this is illegal, I still felt (perhaps naively so) that there might be a more peaceful solution than swarming an establishment with a bunch of hungry babies in protest.
I felt like I didn't belong anywhere. I watched as some mothers talked about breastfeeding mothers who use a cover as though the women who used covers were being controlled, manipulated, or otherwise not making an informed decision. While I didn't mind other people nursing in front of me (and love my friends that do), and certainly didn't mind nursing uncovered with close friends, I felt like I still would've liked a cover in most situations.
I felt guilty for not fitting in on both sides. I didn't know what I would be told if I said, "Hey, I actually still wish I could breastfeed with a cover." It seems like a shunning-worthy confession in some circles. While I knew breastfeeding was a hot topic, I had no idea how it can almost be religious for some people. In fact, my own husband was afraid to give me his opinion because of how controversial any opinion on breastfeeding can be. He wanted me to make my own choice.
After a while, I decided to post an inquiry on my personal Facebook asking for opinions and insight, while assuring those who posted that they would not be attacked. The response was overwhelmingly respectful and varied. I enjoyed seeing many different perspectives and the thread really solidified my desire to want a cover and made me realize how much I had been influenced by popular opinion in an area that I didn't want to be.
Just recently, Bubba and I made some new friends. While on a visit to see them we got to see their nursing cover! It was a beautiful polka dot pattern and to my surprise, there was an indention in the top of the nursing cover so that mommy and baby could see each other, but no one else could see anything.
Our new friend generously offered for us to try it out and it was so nice! Bubba was considerably calmer (leading me to wonder whether overstimulation is what has been causing him to bite) and we could still see each other while nursing. Since hindering bonding had been one of my main concerns about covers, I was thrilled to see that this might not be a concern any longer.
I asked our friend where she had purchased the cover and she informed me that she had made it. She also offered to make us a cover and of course, I was excited about this. So, Bubba and I have already made some sweet new friends to go into the New Year with and we will soon have a pretty nursing cover too. 🙂
I regret that I went against my initial desire to use a cover. I feel better now, knowing that not only do I have a like-minded friend with the same desires, but that I am finally at peace with being somewhere in the middle of uncovered vs. covered breastfeeding rather than being on one "side" or the other.
Have your views on breastfeeding changed since you became a parent? 🙂
After popular demand, our friend supplied us with a post containing a picture of her nursing cover. We will be back later with a picture of ours in action. 🙂
Get our E-Book on improving the health of your family

Free Ebook!
Sign up for your copy of: 3 Controversial (But Highly Necessary) Habits for the Family!
Thank you for subscribing! Your book will show up in your inbox soon!
Something went wrong.